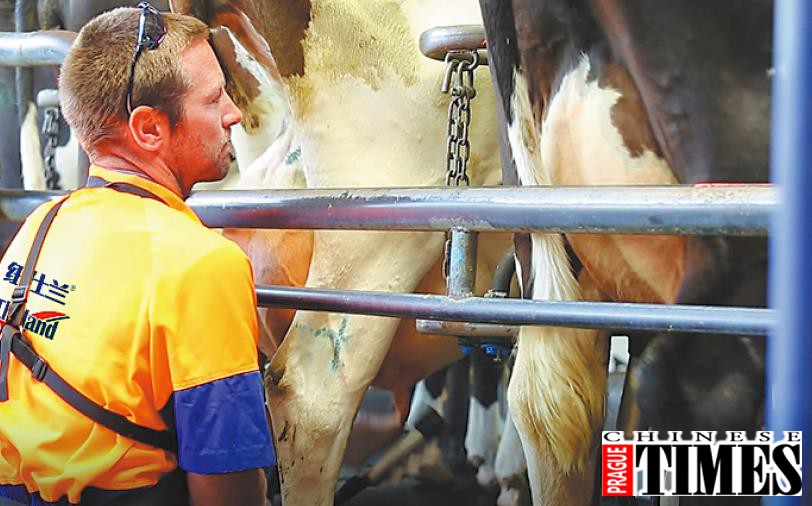 A worker of New Zealand dairy company Theland works in the ranch. The company has seen its sales revenue surge 309 percent during the first quarter of this year, after its presence at the first CIIE. [Photo/China Daily]
As the first batch of exhibits set sail for the second China International Import Expo, companies attending the show have pinned high hopes on the upcoming six-day exhibition.
According to the CIIE bureau, the first exhibits for the show, which will be held in Shanghai from Nov 5 to 10, were shipped from northwestern Italy's Genoa Port on Sept 2. Exhibits from Vanuatu and Czech Republic were also shipped in early September.
The shipment from Italy is mainly made up of cosmetics, nutrition products and traditional Italian bread, which need to be delivered under constant temperatures throughout the journey to China. The products are expected to arrive in Shanghai in early October.
To ensure that exhibits are handled properly and efficiently, COSCO Shipping has specially designed a one-stop solution that covers clearance, goods pickup, packaging, temporary warehousing and cold-chain shipping, said Wang Songwen, vice-general manager of COSCO Shipping Europe.
Up till now, more than 3,000 companies from over 150 countries and regions have signed up for this year's show, many of which participated last year.
UK luxury electrical wiring accessories manufacturer Focus SB brought its products to China for the first time via last year's CIIE. Many of the products ordered during the show were for the new VIP lounge at Shanghai Pudong International Airport which was recently completed in early September.
According to Focus SB, the company forged cooperative deals with five Chinese domestic dealers last year and will double its exhibition area at this year's expo.
During last year's CIIE, New Zealand dairy company Theland signed contracts worth over 1 billion yuan ($141 million) during the six-day show. Its signature product-the 72-hour fresh milk shipped directly from New Zealand to China-achieved sales topping 80,000 bottles per week earlier this year, which was more than 26 times the volume registered before the show.
"Theland saw its sales revenue surge 309 percent during the first quarter of this year, and this can be largely attributed to the company's presence at the first CIIE," said the company's chairman Sheng Wenhao.