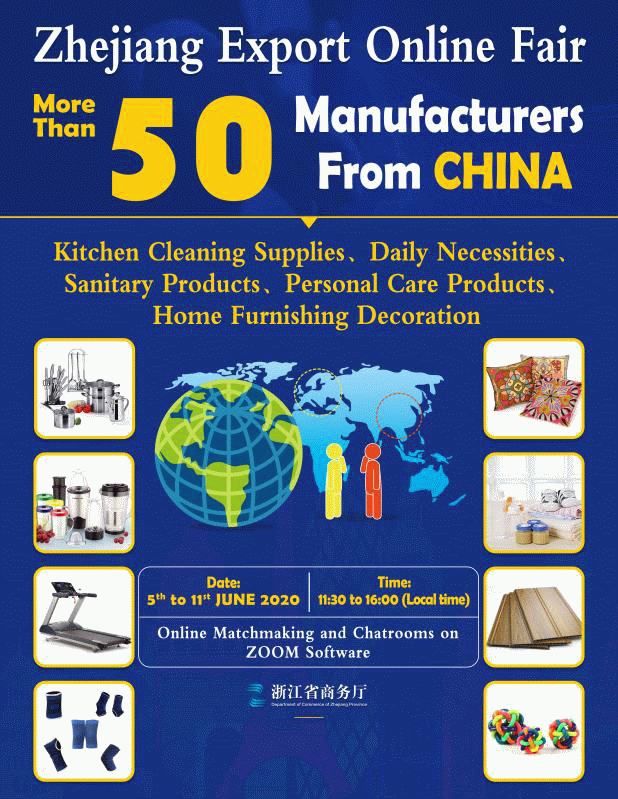 Central and Eastern European countries: Zhejiang Export Online Fair 2020 presents -Household Necessities and Decorative Materials, hosted by the Department of Commerce of Zhejiang Province which will be held from 5th-11st June, 2020. and will be undertaken by Zhejiang Zhongzhe International Exhibition & Commerce CO., Ltd.
Nearly 100 enterprises from Zhejiang and Central and Eastern European countries will be a part of this unique online exhibition through a video conference.
The Covid-19 pandemic has had a massive impact on economies and societies. In an attempt to minimize the impact of lack of production of household daily necessities and decorative supplies, and to provide a solution for enterprises, when they are unable to take part in an on-ground exhibition and merchants are facing hassles in communication, the department of commerce of Zhejiang province is offering this unique online platform wherein an exhibition on Household necessities and decorative materials in Central and Eastern European countries will take place.
The online fair gives a legal, effective, reliable, and affordable way to trade; giving full play to the numbers of Zhejiang economic advantages. Use of big data, mobile internet, social community-integrated digital solutions, such as precision docking. Zhejiang Household necessities and decorative materials product of procurement required with Central and Eastern European countries, keeping clear of the international supply chain.
The Fair will be held from June 5th to 11st 2020, with more than 50 Central and Eastern European countries Household necessities and decorative materials product industry associations, enterprises and related institutions taking part and 50 high-quality Zhejiang Household necessities and decorative materials product manufacturers realizing online accurate docking and accurate matching through internet cloud video conferencing technology.
European families pay attention to adornment, quality, Given the characteristics of the European building materials decoration market, Chinese building materials decoration products and daily necessities suitable for soft decoration are high quality and low price, so the export market in central and eastern Europe has obvious advantages.
During the online fair, digital services such as cloud exhibitions, cloud promotion, and cloud negotiation for the exhibitors will also be provided in Zhejiang province. All aspects and multiple dimensions will be displayed in the exhibits so that the overseas buyers can have a more intuitive understanding of the exhibits and relevant information and promote the online transaction between the supply and demand sides.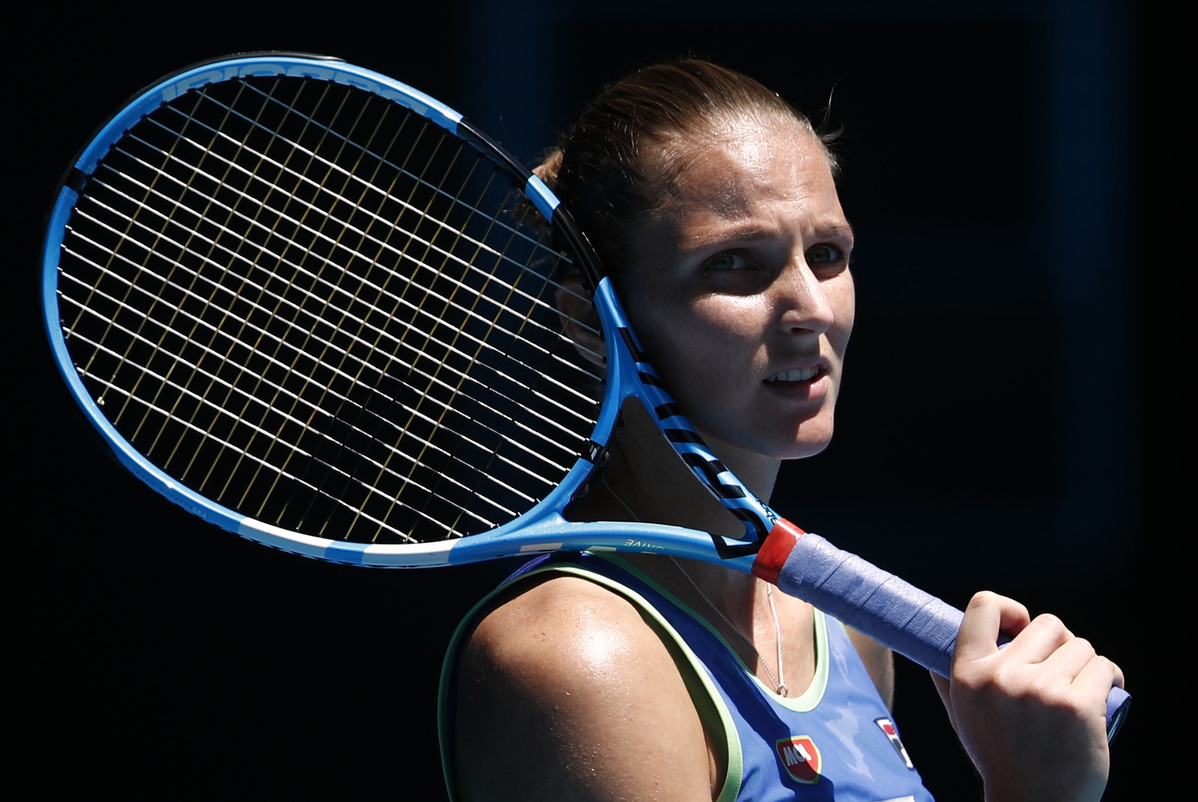 WASHINGTON – Czech tennis star Karolina Pliskova, WTA world number 3, has laughed off her "ice queen" tag in an interview published by WTA on Wednesday, explaining that she gets nervous and scared just like any other player on the circuit.
With 16 career WTA tour titles, the former world number 1 is famous for her calm on-court demeanor as well as her big serving, leaving an impression that she could be immune to pressure in the midst of a match.
"Of course I get nervous, scared, annoyed a lot," said Pliskova. "It's not that I don't want to have emotions, I have so many emotions."
"People when they see me on TV they are like: 'Come on, you're completely frozen.' Like an ice queen, they call me. Then they see me in real life and I'm laughing all the time and telling jokes, they're like: 'No, it's not you, it's not possible,'" the 28-year-old noted.
"It's me, but it's my focus. It helps me not to panic and to stay calm. It's not in my personality to tell some jokes on court – I would completely lose my focus and my game would go away completely, so that's why I'm like this," she added.
As the Tour is suspended due to the coronavirus pandemic, Pliskova said she will take advantage of the unexpected break by running a coaching camp for kids. "So far, so good. It's starting to be a little bit too long, but I guess that's the same for everyone."
"I've had two waves. The first was that I was excited to be at home, I was enjoying being at home, seeing my parents, and I was just doing my stuff at home, organizing my closet, normal things we never have time for. And then I started to get a bit bored and I still tried to practice, to exercise or to play tennis every day for one or two hours."
"It's difficult for everyone, but you can find some positives from this situation. I'm seeing my parents like never before and my friends once per week. I'm like OK, this is the best time! I miss tournaments, I miss travelling. Hopefully everything will be better soon."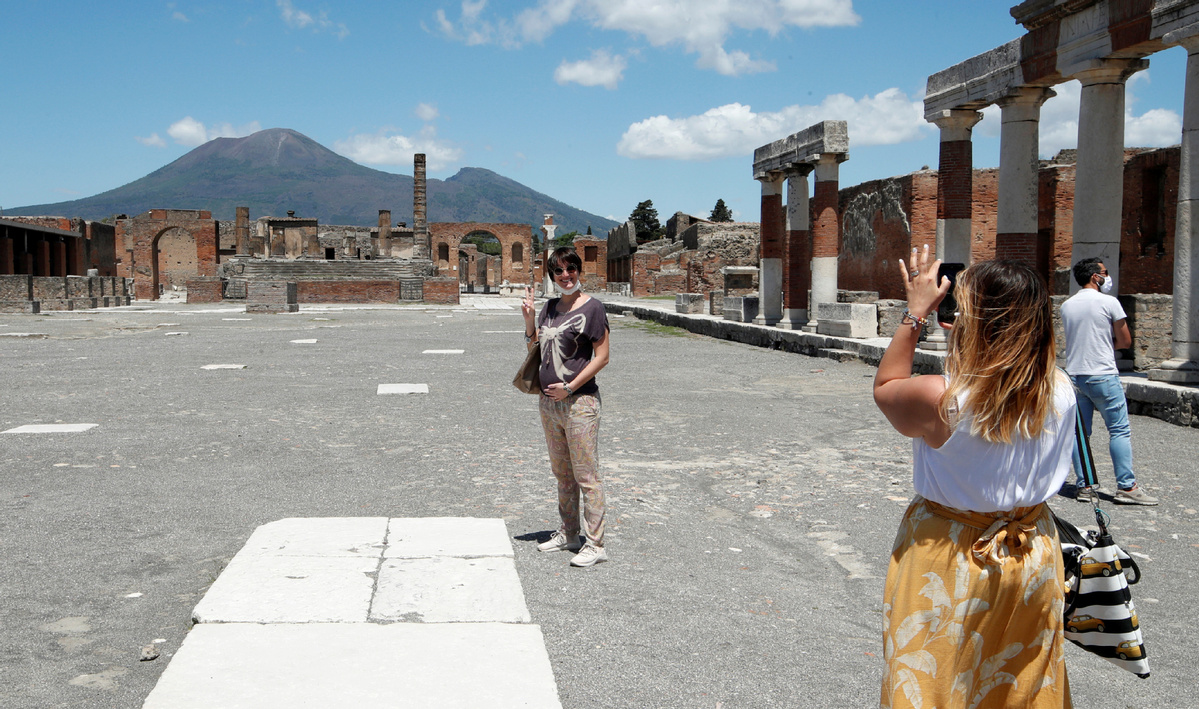 Italy reopened to European travelers on Wednesday, three months after the country went into a coronavirus lockdown, with all hopes pinned on reviving its key tourism industry as the summer season begins.
Gondolas are ready to punt along Venice's canals, lovers will be able to act out Romeo and Juliet on Verona's famed balcony, and gladiator fans can pose for selfies at Rome's Colosseum.
But there were fears that many foreign tourists would be put off from visiting a country still shaking off a vicious pandemic.
"Come to Calabria. There's only one risk: That you'll get fat," Jole Santelli, the southern region's governor, said on Sunday as the race began to lure big spenders-or any spenders-back to Italy's sandy shores.
Italy was the first European country to be hit hard by the coronavirus, and has officially reported more than 33,000 deaths.
It imposed an economically-crippling lockdown in early March, and has since seen its contagion numbers drop off dramatically.
With the country facing its deepest recession since World War II, it needs foreigners to return, and quickly.
But it is still reporting dozens of new cases a day, particularly in the northern Lombardy region, and some experts warned that the government may have been hasty in permitting travel between regions and from abroad.
International flights were only expected to resume in three main cities: Milan, Rome and Naples.
Meanwhile, Switzerland has warned its citizens that if they went to Italy they would be subject to "health measures" on their return. The country will open its borders with Germany, France and Austria on June 15, but not with Italy.
Separately, Austria is lifting restrictions in mid-June for travel to Germany, Switzerland, the Czech Republic, Slovakia and Hungary-but again, not Italy, described last week by Austrian health minister as "still a hot spot".
Other countries, such as Belgium and the United Kingdom, are still advising against, or forbidding, all nonessential travel abroad.
In response to perceived anti-Italian sentiment, Foreign Minister Luigi Di Maio has warned countries not to treat Italy "like a leper".
Italy's lockdown has had a particularly devastating effect on the tourism sector, which amounts to nearly 13 percent of the country's GDP.
Parisians return to cafes
In neighboring France, Parisians returned to the City of Light's beloved sidewalk cafes as lockdown restrictions eased on Tuesday.
The post-lockdown freedom along Paris' cobbled streets will be tempered by social distancing rules for the city's once-densely packed cafe tables. Paris City Hall has authorized outside seating areas only, with indoor seating off-limits until June 22. But the tiny tables will have to be spaced at least 1 meter apart, sharply cutting their numbers.
In Russia, a military official said sanitary and quarantine stations would be set up at airfields to hold barrier checkups for foreign delegations coming to participate in the upcoming Victory Parade.
According to Dmitry Trishkin, head of the Russian defense ministry's main military medical directorate, all foreign participants and guests will be quarantined for two weeks.
Russia reported 8,536 new cases of the virus on Wednesday, taking its nationwide tally to 432,277, the third highest in the world.
The death toll hit 5,215 after the authorities said they had recorded another 178 deaths from the virus since the previous day.
Agencies and Ren Qi in Moscow contributed to this story.